FREE DOWNLOAD: Sonia Ricotti's New E-Book "Bounce Back Big" is Now Available
---
Free Downloads and Access to Sonia Ricotti's  Bounce Back Big in 2018! eBook,  Clear Limiting Beliefs Meditation and Steps to Bounce Back BIG — and FAST! Webinar
HAS ENDED

.
Sonia may open this fabulous offer again later this year.  Stay tuned.
---
FREE DOWNLOAD: Bounce Back Big in 2017!
"Get Your Free Ebook And Discover The Miracle Blueprint To Turn Your Life Around FAST And Achieve Your Wildest Dreams!"
Here is an incredible (free) gift for you today. (Over 70,000 people got the first edition on the first day it was available! Expect even more for the 2017 updated version)
It's a BRAND NEW, hot off the presses eBook that is a must-read if you want this to be your biggest and best year EVER!
Get Your (Free) Book Now > > > Bounce Back BIG!
It's from "Bounce Back" expert and #1 bestselling author, Sonia Ricotti.
Sonia's phenomenal trainings, programs and webinars have helped millions ofpeople around the world create extraordinary lives beyond their wildest dreams.
Learn once and for all how to overcome the challenges life has thrown at you,and quickly and easily bounce back bigger and brighter than ever before.
In "Bounce Back BIG in 2015!"  Sonia gives you her crash course and "miracle blueprint" (free) to achieving the life you love and deserve.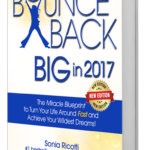 In this breakthrough new eBook you'll learn:
The easiest and fastest way to manifest miracles into your life
The #1 most critical and important thing you must do first that will turbo-charge your results in 2015
How to reprogram and re-wire your brain to manifest massive success, wealth, peace and happiness
How to easily let go of the pain, suffering, stress and anxiety — and move forward with confidence, peace, joy and ease
How to create the blueprint for YOUR dream life – the one you love and really deserve!
… And lots more!
 Sonia is giving this special eBook away for a very limited time, so make sure you get your hands on it now while you can.
Live long, love life and be well.
Harold
P.S. Make sure you also register for Sonia's latest Unsinkable "Bounce Back" Webinar Workshop which goes hand-in-hand with this life-changing book.
You'll receive the invitation to reserve your spot for this (free) training right after you get her book.
Go here to get this life-changing book now >>> Bounce Back BIG!
About Sonia Ricotti:
Sonia Ricotti, is the #1 bestselling author of Unsinkable: How to Bounce Back Quickly When Life Knocks You Down, as well as, The Law of Attraction Plain and Simple (also a #1 bestseller). She is the CEO/President of Lead Out Loud Inc, a leading-edge transformational company helping people around the globe achieve boundless success in all areas of their lives. She is a top-rated professional speaker and has shared the stage with some of the most renowned personal development experts of our time. She has inspired millions around the world, sharing her breakthrough strategies on how to overcome adversity, achieve financial abundance and extraordinary success; in fact, her inspirational video messages on Youtube have been viewed by well over 4 million people to date. She is also the creator and host of the very popular Be Unsinkable Teleseminar Series where she interviews top experts on the topic of how to overcome adversity quickly and come out on top. Sonia believes in giving back and making a difference. Over the last few years, she has participated in (and led) humanitarian trips to several developing countries, including Nicaragua, Guatemala, El Salvador, and Thailand.