Over 251,000 people in Over 150 Countries Used Simple EASY, Energy AWAKENING System
Over 251,000 People Have Already Said "YES" to More Joy, Freedom and Ease at the Fastest Growing Transformational Gathering on the Planet!
Has your life felt a bit 'STUCK' or 'stagnant' energetically the last few months?
Can you remember a time when you felt a 'burning' excitement to just RISE up in the morning and LIVE?
First, it's NOT your fault.
If you're like most people the 'energy' of the world PULLS at you, DRAINS you, makes you feel sluggish or dried up.  Whether you know it or not…you are a 'HIGH ENERGY' being that vibrates LOVE…
And, if you're anything like me, you already know that the answer lies in PLUGGING into the right field of energy and letting go of what no longer serves you.
In fact, here's what happened when Sahari 'plugged in' and 'let go':
"I'm calmer, happier, clearer and don't even know how many issues I've cleared because I don't remember what they are anymore!  I'm a different person than I was a year ago" – Sahari M.
Now you might be wondering HOW?
DID YOU KNOW? It's been so successful and effective that it's grown to an Energy HEALING movement with more than 251,000+ people in over 150 countries.
Even better this GROUP has had thousands and thousands of people (like you) who were able to re-NEW their LIFE and joy.
Donna swears it's unlike ANYTHING ELSE out there:
The calls shift everything. There is NO OTHER show out there like it thank you and congratulations on offering the world something unique and for all those kids that are fed with every single email – Donna Valance
You might be thinking, "But wait my situation is different…"
Well literally, 94.2% of respondents in a recent survey said with this one thing "Life Got Better"!
Yes a staggering 94.2% said their "Life Got Better"!
For another listener "life got better" because it gave her courage (and ended anxiety attacks):
"This has helped with anxiety attacks and given me the strength and courage to pursue a lifestyle 'out of the box'"
Yet another listener (Jean) found it meant finally being able to live her passion:
"[It] gave me the courage to let go of a badly paid job …and start my own little business . I am now LIVING MY PASSION work is not work at all …each day I tuned in and got so much energy love and inspiration for which I am deeply grateful…I was literally penny less and on the brink of homelessness ."
It even helped another listener open up HIS own PSYCHIC gifts:
"I have opened …I became a mystic and empath and developed clair-cognizance and clair-sentience. Right now, I'm even working on my first book" – Dennis M. C.
But "How can I?" you might ask.
All you have to do is 'plug' into the energy and take part in the FREE energy practices here: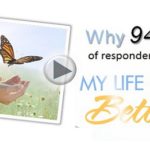 I Highly Recommend This FREE Resource:  Simple, EASY Energy AWAKENING
ACTUAL COMMENT:
"The person I am today is completely different from the person I was when I began.
I am at such ease and feel such an inner peace that is incredible. It is wonderful."-  D.S
You might be thinking… "BUT WAIT!"  "My life is really hard right now…could this really help me?"
More than theory this GROUP was the first to document exactly how ENERGY transformations take place.  Because of this thousands and thousands people have been able to re-NEW and re-CONNECT to joy and love.
Here are the top 10 things people recently reported when they joined this movement:
1) A Deep Reconnection to LOVE once thought to be lost
2) I feel MORE ALIVE, engaged and connected with life
3) I am finally able to enjoy the PRESENT moment
4) I've gained a beautiful CLARITY, purpose, and direction in life
5) I keep seeing INSTANT & RAPID synchronicities
6) I am rediscovering childhood gifts (and PSYCHIC abilities)
7) The COURAGE to stop living by other people's rules
8) FAST transformations in record time
9) A WINDFALL of new profits from new opportunities
10) Finally FALLING IN LOVE with who you are inside
Let me ask you, "Which one of these would re-NEW your life?"
Want Instant Help?  You'll INSTANTLY get a collection of the MOST transformative  sessions & quick practices here: Simple, EASY Energy AWAKENING
PLUS get your Re-NEW Your LIFE Energy Kit (A $97 Value – FREE)
Now you might be wondering, "What's the cost?" Nothing.  Zero.  All of the Energy Practices are FREE each day and are broadcast to the planet!   Even people in China are changing their lives from this!
For Susan it meant a NEW Romantic LOVE and the vibration to enjoy it:
"I found wonderful energy work that changed my life too!! After a 20 year marriage & divorce…I am looking forward to spending a romantic Valentine's Day with the love of my life!! I couldn't have done it without …Keep doing what you are doing, know that you have changed many lives & brought in such peace, joy, abundance & happiness" – Susan
Best of all in this ALL NEW season they will be sharing cutting edge ENERGY HEALING practices, vibration and techniques to HEAL your life for 2015!  PLUS, you can access it online no matter where you live on the planet.
…And yes it's totally FREE.
Curious? Why Did They Get Such Great Results?
In early 2013, this group did an experiment and they found that  CERTAIN practices done in an EXACT way created incredible results.
In fact, 94.2% of those polled said "life got better" by attending!
NOTE: Each DAY we share valuable NEW ENERGY Healings so hurry as you won't want to miss – another minute!
One more thing, did you know that this project is also feeding 45 starving children every day?
It's part of the 'Heart Mission' of its founder, Darius Barazandeh.  To date more than 23,400 meals have fed hungry kids!  With so much good, it's no wonder just 'plugging in' is changing lives…
Whether it's a new life or just a SAFE PLACE to feel hopeful again I think you'll really appreciate this miraculous grass roots TURNED global healing community:
"You have created a sanctuary and SAFE HAVEN for all of us lovers to gather and be loved. I am so grateful to have a place I can return to each day as a reminder that I am not alone and am supported" – Audra M.
Here is the link to see what this is all about: